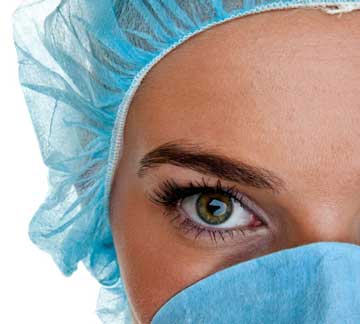 SURGERY LINE
Many dental and oral cavity diseases must be treated through surgery. To facilitate proper surgical therapies, through continuous research, Italmed deepened his studies on a dental disease that affects about 30% of the adult population: the periodontitis.

The film-forming solution created by Italmed significantly reduces pain, bleeding and pocket depth and is also an excellent treatment for post-operative injuries, if necessary, reduces infections and complications after surgery and extractions, with excellent tolerance and no side effect.
Recently Italmed registered and marketed a new key instrument for combating Periimplantitis.

It is a patent that resolves the increasingly frequent problem of Periimplantitis.
The kit prepared for the 'intervention and the Protocol thereto, represents a great opportunity for professionals who will thus be able to face and solve definitely a major "emergency".


GELCIDE
Film forming solution for dental use
Gelcide is designed to protect the cavity of the oral mucosa, periodontal pockets (for reduction in probing depth, reduction in bleeding on probing, gain in clinical attachment), small wounds, cuts, injuries, wounds after surgery implant, oral mucosa flaps.
Protection after implantsinsertion. The resin solution formed a film that releases a controlled Piperacillin + Tazobactam Sodium, in effective concentrations for 7/10 days, allowing protection of the wound until complete healing.


---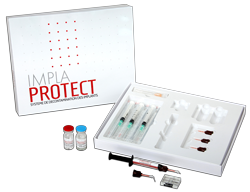 IMPLAPROTECT
Implant Decontamination System
Implaprotect finds a favorable use when mixed to synthetic/heterologous/bank bone and absorbable membrane for the surgical treatment of periimplantitis.
In fact, in a recent study * the product proves high efficacy in treating patients with severe perimplantitis leading to complete healing all lesions treated with radiological evidence of significant increases in peri-implant bone tissue (Bartoloni Sant Omer G.)
In addition, the high antibacterial action of piperacillin + tazobactam together with anti-adhesive bacterial properties of hyaluronic acid can effectively combat the formation of bacterial biofilms that holds such great importance for implants.
The synergistic activity of the components significantly reduces the risk of surgical site infection that can affect the early failure of the implant therapy.


---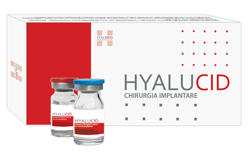 HYALUCID
Implant Surgery, Implant, implant site and sutures protection
Fluid gel based on sodium hyaluronate sterile 0.5% high molecular weight + Piperacillin Sodium and Tazobactam sodium sterile. The hyaluronic acid biomaterial, gives an optimal plasticity and modeling to the particles of autologous bone, allograft, hydroxyapatite used to fill bone defects (Piattelli A 2003). *Numerous studies in vitro and in animal strongly suggest that hyaluronic acid is able to prevent bacterial adhesion to implant by exerting a bacteriostatic effect.
The combination of Piperacillin Sodium and Tazobactam Sodium results in an antimicrobial agent that is active against Gram positive and Gram Negatives (piperacillin) and also on bacteria that produce beta-lactamase (Tazobactam).
Hyalucid is a Medical Device for dental use only.