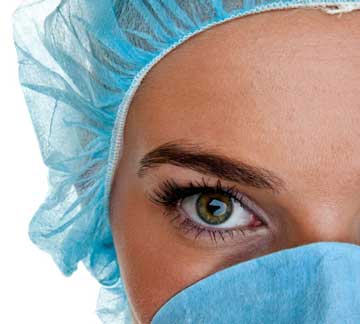 SURGERY LINE
Many dental and oral cavity diseases must be treated through surgery. To facilitate proper surgical therapies, through continuous research, Italmed deepened his studies on a dental disease that affects about 30% of the adult population: the periodontitis.

The film-forming solution created by Italmed significantly reduces pain, bleeding and pocket depth and is also an excellent treatment for post-operative injuries, if necessary, reduces infections and complications after surgery and extractions, with excellent tolerance and no side effect.
Recently Italmed registered and marketed a new key instrument for fighting Periimplantitis.

It is a patent that resolves the increasingly frequent problem of Periimplantitis.
The kit prepared for the 'intervention and the Protocol thereto, represents a great opportunity for professionals who will thus be able to face and solve definitely a major "emergency".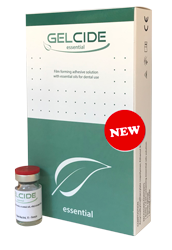 GELCIDE ESSENTIAL
Film forming adhesive solution with essential oils for odontoiatric use
Treatment of periodontal pockets, prevention and treatment of periodontitis in order to stop its progression.
Protection of interruptions in oral mucosa and after carrying out dental extractions.
Protection and treatment of the implant site, treatment of peri-implant mucositis.
---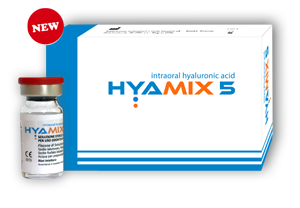 HYAMIX5
Hyaluronic acid sterile solution for dental use
Implant surgery
As an adjuvant treatment in the regeneration of bone defects of the periimplant alveolar ridge in association with bone substitutes and resorbable membranes.
Protection of the implant surface, implant site and sutures.
Treatment of peri-implantitis as an adjuvant treatment in bone regeneration processes also in association with bone substitutes and with resorbable membranes.
Extractive surgery as an adjuvant treatment in the bone regeneration of the alveolus and prevention of post-extraction alveolitis.
Treatment of peri-implant mucositis
---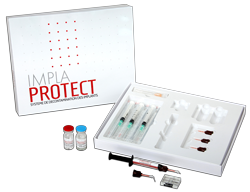 IMPLAPROTECT
Implant Decontamination System
Implaprotect finds a favorable use when mixed to synthetic/heterologous/bank bone and absorbable membrane for the surgical treatment of periimplantitis.
In fact, in a recent study* the product proves high efficacy in treating patients with severe perimplantitis leading to complete healing all lesions treated with radiological evidence of significant increases in peri-implant bone tissue.
*(Bartoloni Saint Omer Giacomo. Doctor OS 2014, XXV-1)
In addition, the high antibacterial action of piperacillin + tazobactam together with anti-adhesive bacterial properties of hyaluronic acid can effectively combat the formation of bacterial biofilms that holds such great importance for implants.
The synergistic activity of the components significantly reduces the risk of surgical site infection that can affect the early failure of the implant therapy.